Hawks Athletic Trainer
WELCOME TO THE KENNETH WHITE HAWKS SPORTS MEDICINE PAGE
What is athletic training?
Athletic training encompasses the prevention, examination, diagnosis, treatment and rehabilitation of emergent, acute or chronic injuries and medical conditions. Athletic training is recognized by the American Medical Association (AMA), Health Resources Services Administration (HRSA) and the Department of Health and Human Services (HHS) as an allied health care profession.
Who are athletic trainers?
Athletic trainers (ATs) are highly qualified, multi-skilled health care professionals who specialize in the prevention, diagnosis, treatment, and rehabilitation of injuries and sports-related illnesses. AT's prevent and treat chronic musculoskeletal injuries from sports, physical and occupational activity, and provide immediate care for acute injuries. AT's are diverse and unique health care professionals and follow a medical based education model.  Athletic Trainers implement evidence-based practice to examine, assess, and diagnose an injury or illness.  AT's rehabilitate and recondition injuries, illnesses, and general medical conditions with the goal of achieving optimal activity using the applications of therapeutic exercise, modality devices and manual therapy.   Athletic Trainers must graduate from an accredited educational program and pass a comprehensive certification exam.  Athletic Trainers work under the direction of a physician as prescribed by state licensure statutes.  
Athletic Trainers are educated on the following health topics:
Orthopedic Injuries
Concussion
Heat Stroke and other Heat Illnesses
Sudden Cardiac Arrest & other Cardiac Emergencies
Eating Disorders
Infectious Disease
Diabetic Episodes
Exertional Sickling
Environmental and Weather-related Health Conditions
Dental and Oral Injuries
Weight Management
Mental Health
Substance Abuse
Early Onset Osteoarthritis
AT's refer to specialist for healthcare topics that are outside their scope of practice.
Why use athletic trainers?
Athletic trainers provide medical services to all types of patients, not just athletes participating in sports, and can work in a variety of job settings. Athletic trainers relieve widespread and future workforce shortages in primary care support and outpatient rehab professions and provide an unparalleled continuum of care for the patients.  Athletic trainers improve functional outcomes and specialize in patient education to prevent injury and re-injury. Preventative care provided by an athletic trainer has a positive return on investment for employers. ATs are able to reduce injury and shorten rehabilitation time for their patients, which translates to lower absenteeism from work or school and reduced health care costs.
Athletic Trainers work in:
Elementary schools, middle schools, and high schools; colleges and universities; amateur and professional sports organizations.
Hospitals, clinics and private practices.
Corporate and Industrial work places.
The United States Armed Forces
Police and Fire departments
Performing Arts.
The Certified / Licensed Athletic Trainers of the Rio Grande Valley are represented by the Valley Athletic Trainers Association. 
The mission of the Valley Athletic Trainers Association is:
To promote the profession of Athletic Training in the Rio Grande Valley, and support our member's efforts to provide appropriate quality services to their patients and student athletes.
To provide continuing education and training for our members, in order to enhance the quality of the services they provide to their patients and student athletes.
To provide a professional forum for our members to exchange ideas and methods for the practice of Athletic Training.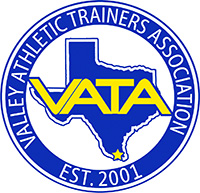 Texas Department of License and Regulation